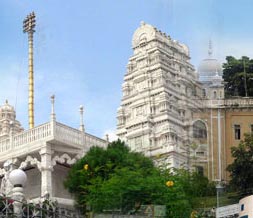 Its been a "long" time since i have come to Hyderabad. The city has been nice to me, with the people
speaking some strange language s far as am concerned, but it gave me its surprises in the form of "hijadas
". I had this one of a kind experience with this people .I was on my way to office one day , and 2 hijus came upto me. I
gave
them some 20 Rs and hurried from the spot before something "unexpected" happened.
The city is so nice, nicer than
Bangalore i would say. It has all the facilities, be it transportation or electricity. The city serves its people well. But the only disheartening thing are the kids. Even a 7 old child starts his early days of
cycling on a bike and they end up crashing in the roads.I pity them and their parents.
I got the wonderful opptnty to visit
some highlights of HYD like iMax, Ramoji Film City, NTR Gardens,Birla Mandir and also have wonderful Hyderabadi Biriyanis from good hotels like the Paradise in Secunderabad.Next week
by this time,il be packing my bags for my journey to Bangalore or in the office attending one of those last sessions in Wipro Tech , Manikonda.
Definitely the last 3 months had been so memorable in my life that it would remain in my heart forever.
Thank you hyderabad.